AHS Class of '62 Memories Page
Last updated: October 11, 2011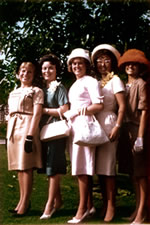 If you have any pictures that didn't make it into the year book, send them to me (electronically or otherwise), and I'll try to give them their day on the web! (I'm running out of original stuff!!) Check out our photo gallery of reunion photos, archive photos, and other photos of us since high school. Also see a "tune watch" and the AHS62 Trivia Quiz.

Now here's a real throw-back! Can you believe you girls ever dressed like that? Here are some of our classmates at the Senior Luncheon. Do you recognize them? Find out their names by clicking the picture.
Do you look back, thinking about how you're getting older? Perhaps it's not all that bad to have a life's worth of experiences.
If you're still working, what do you plan to do in retirement?
Links
Alhambra High School
City of Alhambra (includes an interesting history of Alhambra)
Alhambra School District
Alhambra Public Library
UCLA Asian Studies Reports for Alhambra