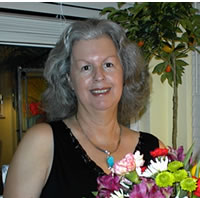 Update 10/14/05 (from Frank Bushell, Carolyn's husband of 41 years):
Carolyn really remembered her classmates from high school. I just spent the weekend with Karen Spencer-Anderson and her husband down in Vancouver, Washington. We are in constant contact and every once in a while the school chums come up in conversation.
Great to remember a lot of the good times, Carolyn and I had 41 years together and for that I am gratefull, we have three great children, all educated and self sufficent. And I am a staff Landscape Architect for one of the largest Landscape Construction firms in the Seattle Area which keeps me busy, thank goodness. I have attached pictures.
Frank Bushell
Update 10/15/04: With much sadness we have learned that Carolyn passed away from cancer on September 26, 2004.
Updated 9/8/01:
Still retired after 30+ years at Ma Bell. we just had our 39th anniversary, have 3 children, 4 grandsons and 2 granddaughters. We bought a little home in Tacoma, WA this past summer. We downsized and are enjoying "less." We see Karen Spencer Anderson and husband Andy often. They live close by in Vancouver, WA. Karen and I have been best friends since 7th grade at Northrup School.
I am taking hot glass classes and our new place has a work area for my shop. I am not famous yet! I have collected art glass and paperweights for 20+ years. I have enjoyed all of the bio's so far. Hope to read more! Please write. FYI, we don't own a pub... oleafpub@aol.com is my husband's publishing business. It stands for "one leaf on the family tree."
First submission:
I am retired! 30 1/2 years with Ma Bell-now I get paid to stay home! Married 38 years to Frank; 3 children/5 grandchildren. Karen Spencer Anderson has remained my best friend for 44+ years. I collect paperweights/love to sail-lived on our sailboat for awhile. Thankful for good health and a great memory-love to reminisce about "the past". Love Washington state-took me 10 years to call it "home", tho. We have been here 22 years now. Will answer all e-mail from old friends as I just sit around now!! Love to travel on Amtrak-went to the Mall of America twice via Amtrak just to shop and see the beautiful prairie-by myself the 1st time and took my husband the second time so he could enjoy the relaxation and scenery. Future goals for the next 56 years:take lessons on glass blowing and work in a hothouse making beautiful art glass; live on a sailboat again and sail to Alaska;learn to cook;write a book.