AHS Class of 1962 Memorial Tributes
As our ages increase, so do the number of those who have left us. As of this date, the number of deceased classmates is 97 (20%).
In the list that follows, names appear in alphabetical order, by their last name (in 1962). Click highlighted names for additional information or tributes.
For the 55th reunion, we prepared "In Memoriam," a slide show with pictures and music, listed in chronological order of their passing. Click to download to your computer (about 350Mb). You can also view individual In Memoriam Slides (without music).
If you'd like to submit a memorial tribute, please send the person's name, (approximate) date of death, and a short tribute, to read@lss.wisc.edu. If you are reporting a death, please send only confirmed information (we don't want to surprise anyone!)

(Last updated: 8/27/22 )
Deceased Classmates
Rosalee Allen (6/22/14)
Steve Allen (8/16/85)
Darlene Allenthorp (5/5/18)
Karen Anderson (3/13/05)
Ken Anderson (4/22/2013)
Kathleen Baker Mancher (8/1/2008)
Susie (Elaine Benioff) Osborn (07/28/2020)
Stephanie Benson (10/14/98)
Diana Bethel Hayak (1/12/02)
Susan Birch Cox (12/31/06)
Kenneth Bolin (5/6/05)
Don Bowers (9/1/00)
Barbara Alyce Browne Strickland (1/29/76)
Bill Burkhart II (4/14/16)
Carolyn Butler Bushell (9/26/04)
Richard Carnahan (8/23//22)
Tom Carotenuti (2/9/07)
Gary Carroll (8/24/03)
Leo Carroll (1/30/16)
Tony Chiovare (12/28/15)
Judy Colbert Pol (1/23/08)
Brian Collins (11/29/07)
Judy Conway Pol (2013)
Jeannie Cook Vals (7/5/05)
Richard Cook (12/13/61)
Charles Corbin (1/23/09)
Janet Dale Burton (2/24/10)
Suzy Day (2/17/03)
Bill English (6/4/95)
Larry Foster (4/5/64)
Frank Francone (6/4/11)
Tom Genc (6/7/92)
Jim Gerard (8/23/65)
Les Gilman (7/25/17)
Stan Gilweit (9/21/03)
Carla Glenn (11/19/15)
Jim Green (11/3/06)
Wendy Hagan Gambill (8/15/87)
Judy Hanagata (10/14/97)
Nancy Hansen Andersen
Phil Harris (11/17/03)
Carol Hazlett Spotts (4/6/18)
Jay Heritage (4/23/74)
Ken Heyleck (11/17/15)
Charles Irion (11/4/06)
Glenna Ito (12/9/84)
John Jackson (2/4/93)
Tim Jensen (9/12/15)
Gordon Kalthoff (10/17/58)
Douglas Kendall (5/27/12)



Jackie Kersey Adkins
Cheryl Kohout Shamlin (4/13/17)
Connie (Eileen) Kraus Dilley
MaryAnn Kruep Paino (1/19/01)
Richard Lavender (3/31/15)
Kathleen Lawler (3/21/06)
Lloyd LeBlanc (1/15/04)
John Linden (5/17/67)
Gloria Luna San Lucas (3/29/09)
Kathy Malone Parsons (9/18/04)
Kerilyn Mannschreck Collins (4/16/96)
Russ Marasco (6/13/17)
Dora Mata (3/2/14)
Bevery McDowell Dugard (7/80)
Jeannie McIntosh Culton (10/9/06)
John Middleton (12/5/98)
Linda Moran (6/26/16)
Christine Morrison (4/23/00)
Kathleen Murphy Stewart (6/28/2020)
David Nichols (11/25/01)
Luis Nuñez (7/2020)
Walt Osman (9/7/14)
Mary Parsons Ledford (3/23/11)
Neil Pattenson (2/3/68)
Russell Lee Perin (11/25/03)
Stan Peterlin (7/18/13)
Donald Phillips (1/2012)
Frank Polito (10/26/2019)
Frank Quirino (4/8/15)
Peter Riker (7/30/08)
Mary Robertson McCallum (6/25/12)
Gordon Samuelson (7/21/07)
Richard Schwarz (12/30/87)
Dan Shaw (10/19/05)
John Sherod (6/15/82)
Beverly Smith (9/3/2002)
John Spinelli (6/12/10)
Susan Steed (1/31/05)
Donna Stipp Soper (10/14/08)
John Stratton (8/28/16)
Guy Taylor (5/17/95)
Tommy Thompson (1/13/10)
Dominic Tudisco (4/19/09)
Carol Waugh Foster (2/13/16)
Bill Whitacre (9/21/07)
Tom Winsor (3/11/08)
Diane Ziemantz Epperson (2014)


---
9/8/1944-9/18/2004
After graduation in 1962, Kathy went to work and spent the following years helping her sister raise eight children. In 1984 she was reunited with Jim Parsons (AHS 1963), her best friend and the love of her life.
They were married in 1986. Jim and Kathy retired in 1994, and spent the next 10 years traveling the US and the world, building world class hot rods and spoiling grandchildren. Kathy's husband and family were her first priority. She and Jim were truly soul mates.
She is deeply missed every day by those who knew and loved her.
(Submitted by Mary (Parsons) Ledford)
James D. Green
2/26/1944-8/2006
Upon graduation in 1962, Jim joined the Air Force.
When he was discharged in 1966 Jim moved to Washington State and began a career with the state transportation department until his retirement in 2006.
In 1968 he married Nancy and they raised 3 children. Jim and Nancy were very active in their church and loved spending vacation time in Mexico and with their 7 grandchildren.
Jim Green was warm and funny, gentle and kind. He is greatly missed.
(Submitted by Mary (Parsons) Ledford)
MaryAnn Kruep Paino
May 19, 1944 - Jan 19, 2001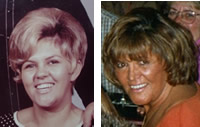 MaryAnn (Mary Anita) passed away unexpectedly from complications with heart disease. Born in Los Angeles, she grew up in Pasadena and Alhambra. Beloved Mother, Grandmother, Sister, Aunt, and friend. Survived by her 4 children, Susan, Carolyn, Vincent Jr and Jonathon and now 9 grandkids. She was preceded in death after close to 10 yrs of marriage early on by her true love Vincent Joseph Paino, she was only 27 and he 29. True to her strong nature and resiliency, she raised her children, becoming very successful in the Mortgage Industry. She made many loving and supportive friends with her good-natured personality and radiant smile. Her warmth, strength and charm are gifts everyone who knew her will hold dear in their memories of her forever. Her special interests included gardening, boating, reading and her #1 was her grandchildren. Prior to her passing, she wrote in my son's baby book "I look at my children and grandchildren as my special garden and I have watered and cultivated them. I will continue to do so until the day I die." -which was right before he was born. Thanks to her, we feel honored when people mention how much one of us looks like her, reminds them of something she did. As for her children, we like to dedicate Billy Joel's song –to both her and our father "Only the Good die Young". She is forever in our hearts and mind.(Submitted by her daughter, Carolyn M. Bauer, August 2007)
Dianna Bethel Hayek
Dianna died unexpectedly on January 12, 2002 from an infection after being hospitalized only a few hours. On July 7, 2002, Dianna would have been married 40 years to her beloved husband, Tommy. She is also survived by her three children, seven grandchildren, mother, two brothers and sister. Dianna was a Registered Nurse for 18 years at Hemet Valley Medical Center. She was a devoted Christian who put her faith to work helping and loving her family, friends and others whom God caused to cross her path. She was a hospitality queen. She worked hard and knew how to have fun. She didn't put things off. She lived her life. She is greatly missed by all her family and friends. It is hard to believe that she is no longer a phone call away. She left us with so many wonderful memories and pearls of wisdom. One of her favorite portions of Scripture was 2 Timothy 4: 7-8.(Submitted by Susan Bonander Popenoe and Sheila McCoy Klick. Picture of Susan, Sheila, and Dianna from Fall 1999.)
Jeanie Cook Vals
Jeanie passed away July 5, 2005 in Long Beach, CA. She suffered
from MS for many years and was very courageous all the while. She is
survived by her husband Richard, and sons Tod, Eric and Curtis and their
lovely families. She was my cousin and my friend and I'll miss her.(Submitted by Donna (Booth) Roberts Smith)

Frank Francone
Francone, Frank, 66, a food salesman in the restaurant industry and resident of Laguna Beach, died June 4, 2011. Besides his son, Vito A. (Wendy) Francone, he leaves a daughter, Valerie J. (Tommy) Ross; brother, Nick Francone; sister, Martha Montgomery; 4 grandchildren.
Beverly McDowell Dugard
Beverly passed away July 1980 in Washington. She left 4 children, of which 2 daughters received their Masters Degree and are now teaching. She lived in Alhambra after her marriage for a short time, became a Navy wife and moved to Washington. She donated all her energies to the Girl Scouts of America, her church and her friends. She is sorely missed by all her friends. She didn't know how much she was loved. (Written by Joy DiPrima Pantano and Mary Reiman Murphy)
Richard Schwarz
Richard Schwartz was born in Ohio on April 5th 1944. After his family moved to Alhambra, Richard attended Saint Thomas More Catholic School and then Alhambra High School. Richard enlisted in the United States Marine Corps approximately two years following his high school graduation. He served three years in the Marine Corps; including two tours in Vietnam with front line combat units at the height of the conflict. Richard achieved the rank of Sargent. After returning from serving his country, Richard lived in Alhambra, where he held several jobs until his death. Richard passed away on December 30, 1987 at the age of 43. Richard is buried at the Los Angeles National Cemetery, Section C-104, Gravesite 43. I will always remember his perpetual grin and cherish his friendship. (Submitted by Terry and Pam King, Upland, CA) (Submitted by Terry and Pam King, Upland, CA)
Stan Peterlin
Stan passed away on July 18, 2013, after a struggle with metastatic chromophobe renal cell carcinoma. He wanted to attend the 50th reunion so badly; however, our son, dau-in-law, and 12 y.o. granddaughter were boating and a drunk driving a speed boat rammed into them & killed our dau-in-law (42) and our granddaughter and critically injured our son. This occurred 1 week before the reunion, and we had to cancel our reservations & trip. It has been a difficult road to travel since then, and Stan really went downhill rapidly. The last few weeks were difficult, to say the least.
Stan had wonderful memories of his time at Alhambra High School and made lifelong friends. Fred & Julia Haight, Barry Dagastino, Ric Munson, and Marilyn & Ric Walker all made trips here to see Stan just a week or two before Stan passed away. I know he would like me to pass on his thanks to all of his classmates for making his time at Alhambra HS memorable ... some of the best times of his educational experience! The following is from his obituary:
Stanley Morgan Peterlin, 69, of Dunsmuir, California, passed away at home on Thursday, July 18, 2013. Stan is survived by his wife, Carol; and two sons, Paul and Marcus.
Stan was born in San Francisco, CA, attended grade school and junior high in Palo Alto, CA, high school in Vallejo, CA and graduated from Alhambra High School, Alhambra, CA in 1962.
Stan joined the U.S. Navy, trained as a combat medic and surgical technician, and served during Viet Nam. He was employed as a surgical technician at Huntington Memorial Hospital in Pasadena, CA, where he met his wife, and worked his way through college.
He graduated from California State University, Los Angeles, subsequently earned two masters degrees and a PhD. Stan spent his entire career as a Public Servant.
In retirement, he worked at Dunsmuir Fly Fishing Company. He was also a Major in Civil Air Patrol, the official auxiliary of the U.S. Air Force.
Stan was a quiet, gentle man and an inspiration to all and respected by his family, friends, and peers. A lifelong athlete, he excelled at baseball, football, softball, and golf. He was an avid fly fisher and golfer. He loved playing golf and fly fishing with his wife, spending time with his family, and cherished his grandchildren.
(Submitted by his wife, Carol Peterlin)
Submitted by Michelle Murphy: My mother, Mary Reiman Murphy, asked me to notify the page of the passing of Carol Hazlett Spotts on April 6, 2018, due to complications from COPD. Carol was much loved by family and friends. She was more aunt than family friend to me, and a sister to my mother. She will be greatly missed. Rest in peace, Aunt Carol.